Screws
Products in accordance with manufacturers' standards and customized geometries - available to order and fully adjusted to customer needs. Geometries dedicated to technical plastics, transparent materials, fast cycles and improving colouring.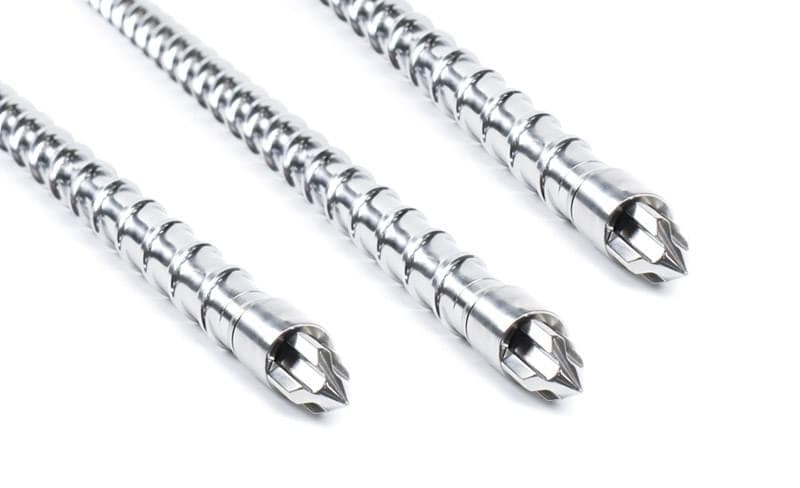 Special screw design (barrier geometry) provides the ability to better control the temperature during plasticizing the melt and plastic mass - including faster and more precise material feeding.
Suitable for packaging and transparent products
Barrier design reduces plasticizing time by up to 40%
Barrier geometry allows for reduced backpressure during plasticization
Additional mixing zones are also used in the production of pigmented plastics to speed up their homogenization
Chemical resistant
Energy efficient
Not suitable for use with fiberglass and other abrasive additives
Not suitable for the production of technical parts
RECOMMENDED FOR PROCESSING: PP | PE | PC | PET | ABS | PMMA
SCREW - TYPE H (SINGLE FLIGHT)
Basic geometry, allowing wide application in processing different types of plastics.
Conventional three-zone geometry
Excellent plasticizing parameters
Suitable for processing of materials with fiberglass
Suitable for processing materials with flame retardant additives
Low compression ratio
RECOMMENDED FOR PROCESSING: PA | PPS | LCP | PP | ABS | PE | PS | PBT | PC | PMMA
Universal for all types of materials. Additional mixing zone at the end of the screw improves material homogenization.
Improvement of production quality
Good melting quality of the plastic mass
Pressure reduction
Improved homogenization/mixing
Energy efficiency
Not suitable for long glass fibre material
RECOMMENDED FOR PROCESSING: PMMA | PET | PA | POM | PC | PE | ABS | PPS
Are you interested in our solutions?
Feel free to contact us using the contact form