JENIUS III
The Zhafir Jenius (JE) Series is an innovative hybrid machine concept that combines electric and servo-hydraulic drive technology. Utilizing an innovative modular concept, the electric and hydraulic drives are combined in a highly efficient manner while maintaining their advantages. By combining the two technologies, the Haitian product portfolio, as well as the variety of applications, has been greatly enhanced in the Jenius Series machines.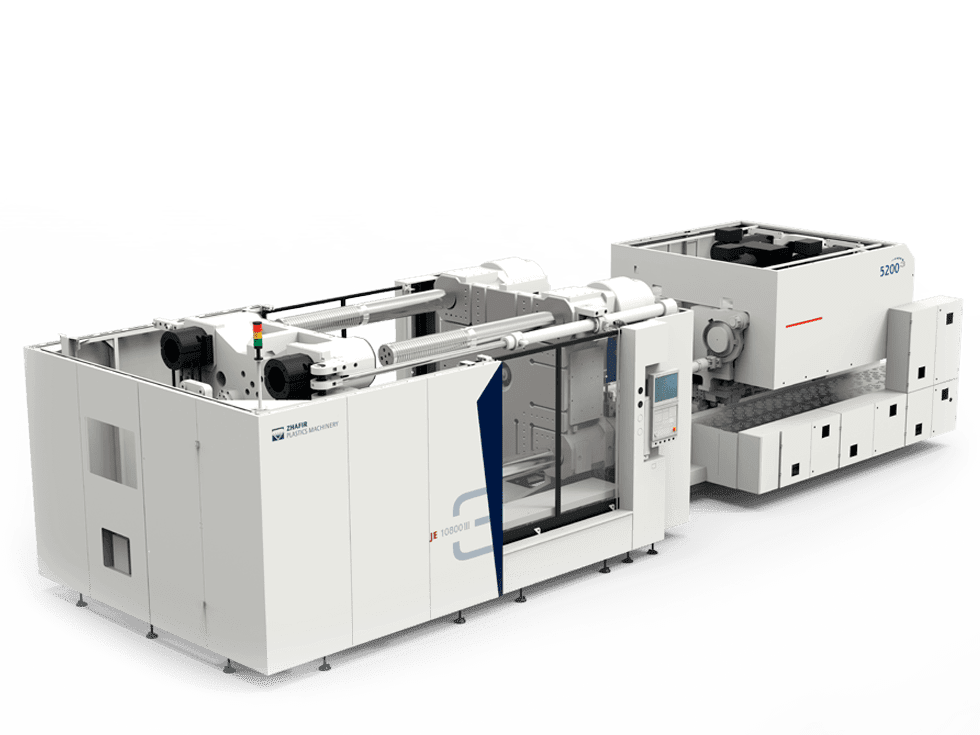 Electric - two-platen hybrid
Two-plate clamping system saves space
High precision, fast injection speed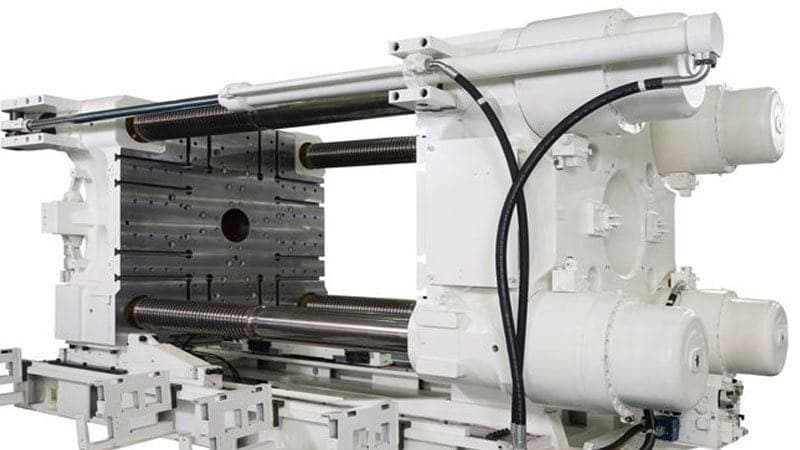 Space-saving two-plate design
Compact, two-platen design offers a smaller machine footprint combined with increased opening and ejector travel for a variety of applications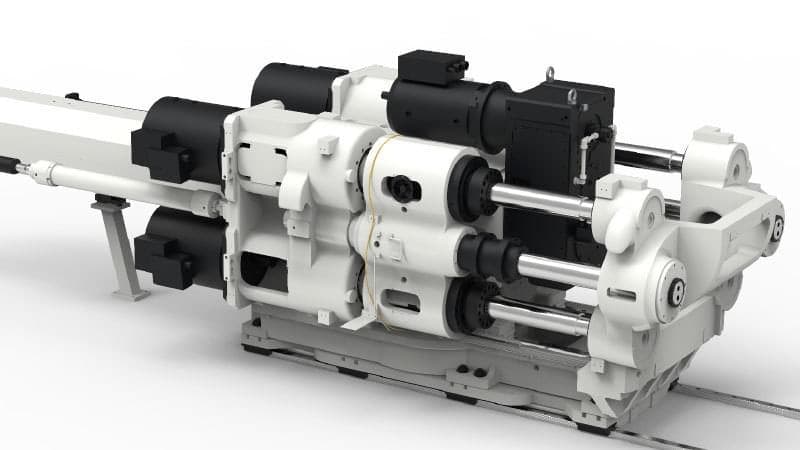 Advanced technology
Large injection units, design with 1, 2 and 4 spindles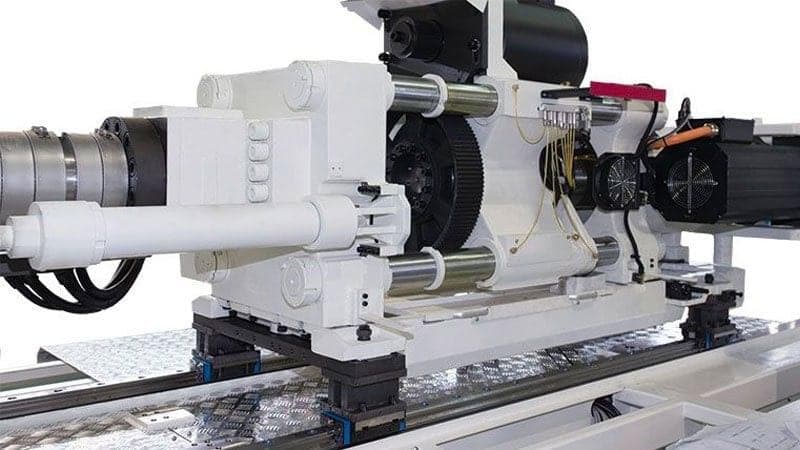 Swiveling injection unit
Swiveling injection unit for easy maintenance and fast plasticizing system change
Standard technical specification of the JENIUS series
Haitian standard T-slot + threaded hole mold platen
The hole installion for robot (EU 18)
Embedded positioning ring (fixed plate)
Electrical and hydraulic double interlcok security
Centralized thin oil lubrication system for clamping unit
Electric automatic door (JE III 9000kN – JE III 33000kN)
Crocodile mouth non-slip pedal (between tie bar and moving door) (JE III 9000kN – JE III 33000kN)
Mould area safety pedal (JE III 9000kN – JE III 33000kN)
Automatic mold height adjustment function
5-stage mold open/close,pressure & speed adjustable
Fast mold opening device
Low pressure mold protection function
Spring mould fuction
Mould clamping oil pressure sensor detection function
Multi-stage proportional control of clamping force
Safety and pressure limiting function of mold breaking pressure
Mould clamping force pressure safe pressure limiting function
Low clamping force holding function in the mode of mold adjustment when turn off the motor
The clamping force can be decompressed automatically when the machine is off in manual and automatic mode
Inverted double cylinder ejector mechanism (JE III 10800kN – JE III 33000kN)
Three hydraulic ejector modes (vibration, hold, multiple times)
Mechanical coupling for easier ejector connection
Ejector back stroke adjustable function
Program controllable of ejector(3 paragraphs)
In-mold ejection function (in-mold cutting function)
Eject back confirmation detection device
Mould thimble protect electrical interface
Delayed ejection function
A/B ejection function (variable stroke ejection function)
Automatic exhaust function of clamping cylinder
Abrasion-resistant screw set, general version (open nozzle)
Injection nozzle safety cover (with switch detection)
6-stage injection unit control(1-6 stage can be set)
4-stage hold pressure control(1-4 stage can be set)
3-stage dose control(1-3 stage can be set)
3-stage back pressure control(1-3 stage can be set)
Screw suck back fuction after holding pressure or charge
Screw suck back delay function
Delay before injection
Delay before charge
Increased flow injection function
V/P switch over methods by position/ time/ pressure combinations
Injection speed responding mode adjustable
Multi-stage control of injection pressure
Hold speed setting
Screw position setting (setting unit 0.01mm)
Screw RPM setting
Holding pressure time setting (setting unit 0.01s)
Mold opening link function in charging
Closed-loop control of barrel heating temperature (applicable for K type and J type)
Barrel heating preservation function
Barrel temperature optimize function
Barrel temperature preheating function
Barrel temperature synchronous heating function
Resin retention prevention function
Plasticizing cold start prevention function
Auto purge
Screw speed display
Nozzle movement setting (switch detection, movement time)
Three nozzel back modes
High output nozzle contact device
Nozzle centering alignment device
Feeding zone temperature closed-loop control
Swiveling injection unit
Independent nozzle temperature control
Heater quick plug
Needle valve type nozzle drive (1 electric circuit spare)
50Kg iron hopper
Bearing type transition slider (IU 1400 – IU3350)
Control and monitoring device
15 inch color touch screen
Save mold parameters (maximum 200 items)
Alarm record
Operation modification record
3 sets of USB interface
Injection speed & pressure curve
Electrical interface of the robot (euro map 67)
Multi-language available (Chinese, German, English, Japanese etc.)
Metric/Imperial unit selectable
I/O Detection display function
USB printer interface
Molding cycle timing monitoring function
Production assistant device function
Molding data record (display for 5000 cycles, save for 100,000 cycles)
Moulding data table function
Moulding quality discrimination function
Quality exception alarm processing function
Cycles counter
The overall status list page
Quick parameter setting function
Equipment maintenance management function
Barrel heating monitoring function
Action cycle timing display function
Three color alarm lamp (Red/yellow/green)
Alarm buzzer
Overfill prevention function (HPM pressure abnormality protection)
Actual value display function
Exception handling selection function
Process parameter preset (start up)
RFID login management
Oil temperature and oil volume monitoring
High-precision transducer
Equipped with RS-232/422/485 communication interface
Equipped with Ethernet interface
Built-in gas-injection electrical interface
Are you interested in our solutions?
Feel free to contact us using the contact form