Plasticizing units for injection molding machines
Plasticizing units for all models of European and Asian injection molding machines are made on the basis of technical documentation of the manufacturers to ensure full interchangeability of parts. We also offer personalized solutions according to the requirements of our customers. The broad portfolio of available processing technologies, materials and screw geometries allows us to provide quality products.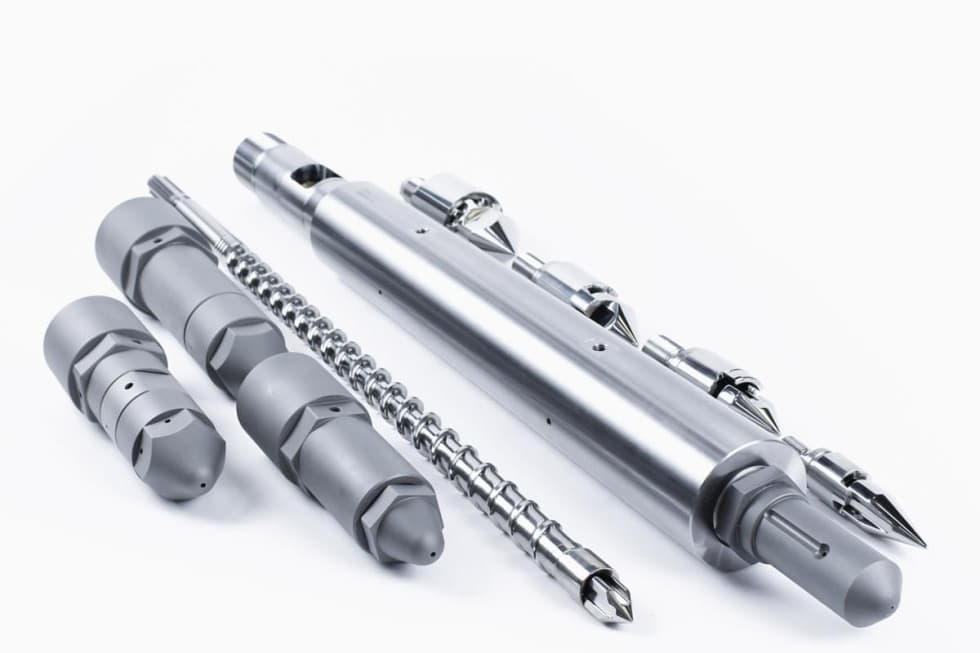 Standard solutions
Plasticizing units are in full compliance with the technical documentation and recommended materials of the machine manufacturer. 100% interchangeability of parts.
Customized solutions
Plasticizing units made according to customer specifications. Free configurability of manufacturing technology, materials and screw geometry.
Technical consulting
Based on the experience of our employees and the knowledge of the technical departments of our suppliers.
Nitrogen coating of steel (surface hardening).
PTA - PLASMA TRANSFERRED ARC
Application of metal alloy on the screw top to increase wear resistance.
Increased abrasion-proof and corrosion-proof by heat treatment of the screw – full hardening.
Supersonic flame spraying - the use of a powder to increase abrasion and corrosion resistance along the entire working length of the screw.
Applying a layer of chromium to the screw surface to improve corrosion resistance and reduce friction.
The process of vacuum coating with metal particles from a gaseous state, which can be applied as a coating to the working zone of a screw or screw tip. This technology is used to reduce surface friction and increase corrosion resistance.
This is the basic version, designed to work with low abrasive and corrosive materials. The nitriding process involves saturating the surface of steel with nitrogen to increase its wear resistance.
The choice of bimetallic layer depends on the properties of the plastics to be processed and the degree of abrasion and corrosion resistance required.
Are you interested in our solutions?
Feel free to contact us using the contact form